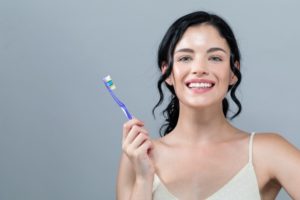 Like much of the rest of the world, dental practices have temporarily closed to slow the spread of the COVID-19 pandemic. While they are still treating dental emergencies, all "non-essential" visits like checkups and cleanings have been postponed. That means it's up to you to keep your oral health on track until your dentist reopens! Here are seven easy tips from your North Naples dentist to keep your smile healthy and bright throughout quarantine.
1.) Boost Your Daily Dental Routine
The best way to keep your teeth and gums healthy at home is to practice excellent oral hygiene. Make sure you're keeping your mouth clean and healthy every day by:
Brushing your teeth for a full two minutes twice a day.
Using mouthwash for 60 seconds and flossing your teeth every day.
Washing your hands before and after your daily dental routine.
2.) Avoid the Store by Conserving Your Toothpaste
The last thing you need while practicing social distancing is to run out of toothpaste! Adults only need to use a pea-sized drop to fully clean their mouth and make their toothpaste last.
3.) Treat Oral Health Issues at Home
Are you stuck in quarantine with a moderate toothache, inflamed gums, or a mild oral infection? You can manage your discomfort until your dentist reopens with homemade remedies like:
A lukewarm saltwater rinse, which can kill bacteria and soothe swelling.
Droplets of clove oil on a cotton ball, which can be applied to a tooth to relieve pain.
4.) Mind Your Munching Habits
In these unusual times, it may be easy to snack mindlessly or stress-eat sugary comfort foods. Do your best to limit your eating to mealtimes and drink plenty of water to reduce your risk of tooth decay.
5.) Eat Smile-Friendly Foods
If you do choose to snack occasionally, pick items that can improve the health of your smile, like:
Cheese, milk, canned salmon, and other calcium-rich foods to fortify your teeth and jawbone.
Oranges, broccoli, cantaloupe, and other sources of vitamin C to promote healthy gums.
6.) Break Bad Chewing Habits
Chewing on hard objects when you're anxious or bored weakens your teeth and can easily chip or crack them. Instead of gnawing on pen caps, ice, or your fingernails, try chewing a piece of sugarless gum.
7.) Protect Your Smile from Stress
Stress can negatively impact your oral health in numerous ways. You can try practicing a few stress-management tips from the Centers for Disease Control and Prevention, like:
Caring for yourself physically by eating nutritious meals, getting adequate sleep, and exercising.
Protecting yourself from being overwhelmed by limiting your exposure to news coverage.
Staying connected with close friends, family, and loved ones and sharing your feelings.
Remember, staying at home is the best way to prevent the spread of COVID-19. Quarantine also presents an excellent opportunity to build healthy habits that can last a lifetime! Use these simple tips to care for your smile throughout the pandemic until your North Naples dentist reopens.
About the Practice
Our family-run dental practice Galleria Dentistry in Naples, FL firmly believes in compassionate, friendly, and family-friendly dentistry. They are dedicated to meeting and exceeding their patients' expectations with comfortable, long-lasting dental care that's tailored to meet each individual's unique needs. Their standards of infection control have always been in line with the recommendations set forth by the Centers for Disease Control and Prevention, and they have added even more precautions to ensure the health and safety of everyone who enters their practice during the COVID-19 pandemic. To learn more about their Commitment to Safety, feel free to reach them via their website or at (239) 249-8582.