Invisalign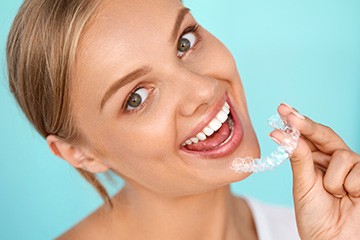 In the past, a straighter smile meant spending two or more years with a mouth full of metal brackets and wires. Today, some patients can achieve the same results using clear, plastic alignment trays. These orthodontic options allow us to create straighter smiles quickly, comfortably, and cosmetically. In fact, no one but you and your Naples dentist will ever have to know about your orthodontic treatment. If you want to find out more about straightening your smile with Invisalign clear braces, call the Galleria Dentistry team to schedule your consultation appointment today. We'll examine your smile, answer your questions, and create a treatment plan to deliver a healthy, beautiful smile you'll be proud to share.
What is Invisalign?
Invisalign is an alignment tray orthodontic system that straightens smiles using a series of clear, plastic aligners rather than brackets and wires. We can use Invisalign orthodontic plans to move individual teeth and to adjust more advanced alignment concerns like over, under, and crossbite. There's no need to spend years with bracket and wire braces. Instead, in just about twelve months of treatment, you'll have the flawless, healthy smile you deserve.
How Does Invisalign Work?
Traditional braces shift teeth into their ideal alignment by using wires to place pressure on brackets bonded to the surfaces of teeth. Invisalign achieves the same results by using aligners that represent one step closer to the desired end result to move teeth into new positions. When worn for about two weeks at a time, the aligners shift teeth one step closer to their ideal end result. Then, you simply exchange your current aligners for the next set in the series. Plus, you won't have to worry about changing your regular diet or oral hygiene routine. Instead, you can simply remove your alignment trays during meals or while brushing and flossing and replace them after. Additionally, you will not need to worry about visiting the orthodontist every few weeks for braces adjustments. You'll simply need to visit our office every six to eight weeks, so we can check the progress of your Invisalign treatment plan and make adjustments as necessary.
What are the Benefits of Invisalign?
If you determine that Invisalign orthodontics from the Galleria Dentistry team is the right way to straighten your smile, you should expect to experience a variety of benefits including:
Saved time throughout treatment with fewer, shorter dental appointments, and overall treatment is completed in just about twelve months compared with two or more years necessary for traditional braces.
Improved quality of life throughout the Invisalign process. The removable aligners mean you can continue to eat a wide variety of foods and perform your regular at-home hygiene routines without the hassle of bracket and wire braces.
Less irritation and discomfort than treatment with traditional bracket and wire orthodontics. The metal brackets and wires protrude from the surfaces of teeth and can lead to severe soft tissue irritation. The smooth Invisalign aligners are completely comfortable even for patients who have allergies or sensitivities to metal.