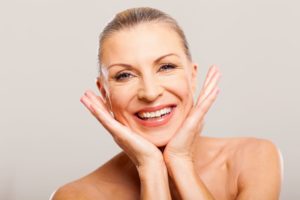 If you're tired of living with your smile imperfections, then now is the time to take action. Your cosmetic dentist says you no longer have to settle for an undesirable image. Find out how a smile makeover can leave you looking and feeling like a brand-new person as you enter the new year!
What is a Smile Makeover?
A smile makeover is a more comprehensive form of cosmetic dental treatment. It provides a way to address all of your concerns with your smile aesthetics so you can finally enjoy the confidence and sense of fulfillment that come along with having beautiful teeth.
Some of the forms of treatment that may be included in your smile makeover are as follows:
Periodontics
Orthodontics
Dental Bridges
Direct Bonding
Teeth Whitening
Porcelain Crowns
Porcelain Veneers
How Your Smile is Assessed
The smile makeover process starts with you and your cosmetic dentist considering the following components of your smile:
Tooth Color – If you have silver or amalgam (mixture of different metals) fillings or teeth stains, it creates a glaring difference in your smile.
Missing Teeth – When you're missing any number of teeth, your smile line is compromised and can attract negative attention.
Harmony and Balance – Another component that factors into the aesthetics of your smile is symmetry. Thus, chips, cracks or other imperfections can leave you with an unbalanced appearance.
Alignment and Spacing – Also important to having a desirable smile are for your teeth to be properly aligned and spaced. Thus, your cosmetic dentist will look to identify any crookedness, overlapping, gapping or other related issues.
What Happens After the Assessment?
After you voice your concerns and your smile is thoroughly assessed, your cosmetic dentist will take photographs and review a smile book with different teeth-shape variations. Finally, bite impressions are taken that are used to form study models that are sent to an in-network lab that will fabricate a wax up of how your smile will look.
Along with your cosmetic dentist, you will review the model and make a final determination on how you want your smile to look. If there are any functional problems discovered, they will be addressed so that once the treatment process begins, there will be a clear direction.
How to Maintain Your Results
After the final procedure is done and you have the smile you've always dreamed of, the last thing you want to do is tarnish or damage it. To prevent that from happening, your cosmetic dentist will provide you with a nightguard to protect your smile.
Additionally, you should be sure to practice excellent oral hygiene and maintain regular visits for cleanings and examinations. By doing so, you'll be able to enjoy your dazzling new image for years to come!
About the Author
For nearly 40 years, Dr. Gery P. Benza has been providing the absolute best in dental care in the Naples area. A graduate of the Case Western Reserve University School of Dentistry, he has remained an eager learner throughout his career, taking several hours of continuing education to stay abreast of the latest changes in the dental world. Dr. Benza helps patients renew their confidence by providing smile makeovers at Galleria Dentistry, and he can be reached for more information through his website.