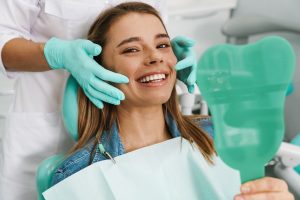 According to the American Academy of Cosmetic Dentistry, the demand for cosmetic dental work has essentially doubled within the last five years, meaning that more people than ever before are opting to enhance their pearly whites with the help of cosmetic dentistry. And among all of the available cosmetic treatments, few are as exceptional as porcelain veneers. That said, the process for receiving veneers involves a few unique steps, one of which is the placement of temporary veneers. Keep reading to learn a little more about why this step is necessary and how these temporary coverings greatly assist your permanent veneers and future smile.
Why Do I Need Temporary Veneers?
Temporary veneers function similarly to test-driving a car. Think about it this way; you wouldn't want to spend a great deal of money on a new car without having driven it first, and a test drive is the only way to ensure that the vehicle operates as intended and feels like something you'll want to drive daily.
When you receive temporary veneers, you're gaining access to a rough preview of what your smile will look like once your permanent veneers have been fabricated and bonded to your teeth. They also allow your dentist to make precise adjustments as necessary to ensure that your enhanced smile looks as beautiful and natural as possible for several years to come.
Temporary veneers also serve another important purpose: protecting teeth that have been prepared for veneers. For veneers to fit properly against your teeth and blend in seamlessly with your smile, a small portion of the enamel needs to be shaved off from the surfaces of the teeth receiving veneers. Temporary veneers shield these treated teeth from injury or decay that might derail your smile plans! Since this process is also irreversible, teeth being treated in this manner will always need to have veneers for their protection and integrity.
What Can I Expect When Wearing Temporary Veneers?
When you receive temporary veneers, it's normal to experience the following:
Changes in your dental hygiene routine – Since there often aren't any gaps between temporary veneers, you might experience minor snags when flossing until your permanent veneers have been placed.
Dietary limitations – You'll want to avoid eating anything that's extra hard, crunchy, or sticky to prevent your veneers from becoming damaged or dislodged.
Difficulty biting and chewing – Since temporary veneers tend to be a little thicker and bulkier than permanent ones, chewing might be a little uncomfortable.
Temperature sensitivity – Since your teeth will also be partially exposed due to having enamel removed, you might experience increased sensitivity when eating or drinking hot or cold items.
Temporary veneers are a necessary stepping stone in the final process for receiving veneers—knowing how the method works and how they help your pearly whites can help you feel comfortable about committing to them.
About the Practice
The team at Galleria Dentistry is honored to provide an exceptional level of dental care for patients and families in the Naples, FL community. The practice is proud to offer a wide range of preventive, restorative, and cosmetic services including porcelain veneers. If you have any questions about the process for receiving veneers or you're hoping to see if they can help your smile, don't hesitate to contact Galleria Dentistry online or over the phone for further assistance: (239) 592-5112.