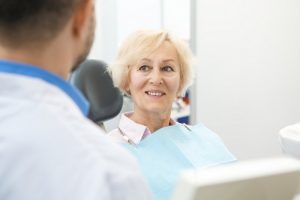 If you're researching options for tooth replacement, there's no way you haven't heard about dental implants. Over 500,000 people choose this life-changing treatment each year because of their amazingly unique benefits. However, you may learn that surgery is required and get a little nervous about the potential treatment. No worries – you're probably among many who are wondering, "Does it hurt to get dental implants?" Read on to find out!
First, Why is Surgery Required to Get Dental Implants?
Dental implants are the only comprehensive replacement option, restoring your entire tooth and its roots. They are tiny titanium posts that are surgically placed in the jawbone. Titanium is biocompatible, which allows them to permanently fuse to the bone. So why is this necessary? Once implants become a permanent part of your body, they can support any number of restorations. They look, feel, and function just like your natural teeth. Plus, they stimulate your jawbone to prevent it from deteriorating after tooth loss. In other words, the surgery is exactly what allows patients to enjoy the wide range of advantages that implants have to offer.
What to Expect During Your Surgery
Before your surgery begins, your dentist will ensure that your completely numb and comfortable. The affected area will be numbed with local anesthetic, and your dentist will also offer you sedation for a greater sense of relaxation during the procedure. Next, they will make a small incision in the gums to access the bone. Once a tiny hole is created, they will place the dental implant. The best part is that your jaw doesn't have very many pain-sensing nerves, which makes the procedure almost painless. In fact, many patients report that the sensation they felt was similar to a simple tooth extraction.
Recovering from Dental Implants
The only "pain" you will feel during the entire implant process is some slight soreness that comes after the surgery. This is completely normal – just take the medication that your dentist gives you as instructed. After a few days, this soreness will go away. There also may be some slight swelling and/or bleeding, but this can be easily managed with a cold compress and gauze. Many patients can return to their job the next day after surgery. However, if your work requires physical labor, your dentist may advise that you take a day or two off.
Don't let the thought of surgery keep you from the best tooth replacement. Contact your dentist to unlock the many benefits of dental implants with a comfortable treatment.
About the Practice
At Galleria Dentistry, we have a team of 3 dentists who combine their experience and training to offer a wide range of services, including dental implants. Drs. Gery, Chelsea, and Anthony Benza are part of a family team that spans across generations. To schedule an implant consultation, they can be reached through their website or by phone at (239) 249-8582.