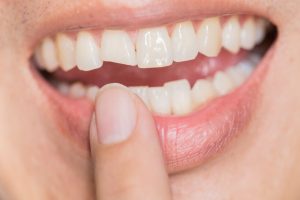 Did you know that the enamel on your teeth is harder than your bones? Unfortunately, that doesn't mean they're indestructible. Whether you bite down on something hard or take a blow to the face while playing sports, you may find yourself with damaged enamel. Would you know what to do if you found yourself with a chipped tooth in Naples? It may not even hurt, so do you need to go see a dentist? Will it heal on its own? The answer may surprise you! Read on to learn more.
Do Chipped Teeth Heal?
The key difference between your bones and your enamel is the ability to self-repair. Your bones are made up of living tissue, but enamel is not. That means it doesn't have the power to strengthen or grow back once it's been damaged. In fact, without treatment, a chipped tooth will only get worse and worse, to the point where the tooth becomes infected or irreparably damaged. So if you find yourself with a chipped tooth, you'll need to see your dentist right away.
What If Your Chipped Tooth Doesn't Hurt?
Chipped teeth don't always come with a lot of pain or discomfort. You might not even notice minorly chipping your tooth until you see yourself in the mirror! Nonetheless, whether the damage to your tooth is painful and noticeable or easy to ignore, you need to see your dentist right away. Since your enamel can't repair itself, the more pressure it's exposed to as you chew, eat, and talk, the more the structure will weaken and break down. Over time, the damage will become more severe and may cause serious damage or discomfort.
Top Treatments for Chipped Teeth
If you sustain a chipped tooth, your dentist will likely want to see you for an appointment right away. In most cases, a chipped tooth can be quickly and easily fixed with cosmetic dental bonding. This simple treatment uses the same natural looking materials used for tooth-colored fillings. The composite resin is sculpted carefully over the damaged area of the tooth until it looks like it was never damaged in the first place. Then, a special curing light is used to harden it into place. Once your dentist polishes it up, the results should be virtually seamless! For highly visible teeth like your front teeth, you may consider veneers instead. These thin tooth-shaped shells of dental porcelain fit perfectly over the front of a tooth to redesign its entire appearance with flawless results.
Hopefully, you'll never experience a chipped tooth. However, if you do, keep the above information in mind and call your dentist right away!
About the Practice
At Galleria Dentistry, we're proud to offer personalized treatments and high-quality care for the families of Naples and the surrounding communities. For dental emergencies like chipped teeth, we are often able to see patients for same-day appointments, so don't hesitate to give us a call! With any of our restorative or cosmetic services, we'll be able to fix up your smile in no time. We can be reached online or at (239) 592-5112.