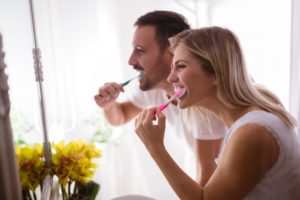 Taking care of your teeth and gums may be a lot more important than you think. With an increasing number of studies linking oral health to your overall wellbeing, a great way to make a healthy change in the new year is to take care of your mouth! Thankfully, your dentist in Naples has some easy and effective habits that you can get into for 2019. That way, you can keep your teeth looking great and your overall health in good shape.
How Your Oral Health Can Affect Your Body
Studies show that dental problems like tooth decay and gum disease can put you at higher risk for more serious overall health issues. Additionally, studies have shown that having gum disease will increase your chance of cardiovascular disease, stroke, diabetes, and even Alzheimer's. The health of your teeth can also affect the strength and appearance of your face and jawbone, which is another reason why oral healthcare is vital for your overall health.
Healthy Habits for 2019
To keep your mouth and body healthy for the new year, here are some positive habits from your dentist:
Schedule an Appointment
The American Dental Association recommends that you see your dentist 2 times each year. These visits prevent and detect oral health issues before they get worse, protecting you from more extensive and expensive procedures down the road.
Commit to Flossing
Brushing often gets most of the attention, but flossing is just as important. Flossing removes plaque and food debris that can buildup in between your teeth to keep your gums and smile as healthy as possible.
Avoid Sugar
Those that eat sugar routinely are automatically more likely to have cavities or decay in their smile. For this reason, you should cut down on the sugary snacks. Sugar interacts with the bacteria in your mouth to create acid that eats away at your protective enamel. You can use sugar substitutes like xylitol to avoid sugar but still get that sweet taste you're craving.
Kick the Tobacco Habit
If you smoke or use tobacco, 2019 should be your year to quit. Besides the way that tobacco can negatively impact your overall health, it can cause great damage to your teeth and gums. It is one of the leading risk factors of gum disease, and tobacco use makes it harder for your gums to get healthy once they're damaged.
Now that you know some good habits to get into, are you ready for a healthy 2019? Use these tips to keep your teeth, gums, and body looking and feeling great for the new year.
About the Practice
At Galleria Dentistry, we have a team of 3 dentists who enjoy providing high-quality dental care. They believe in patient education, which is why they want you to know some healthy dental habits. For any questions, they can be reached through their website or by phone at (239) 249-8582.