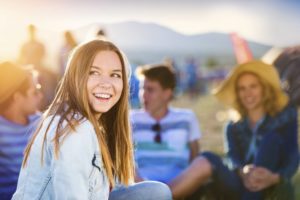 This summer may look a little different, but the heat is definitely the same. Before the humidity makes it nearly unbearable to spend any more than a few minutes outside, you decide to join your friends for a quick game of volleyball. However, you're barely 10 minutes into the game when an accidental elbow knocks your front tooth right out! Goodbye victory win, hello dentist's chair.
While dental mishaps can happen throughout the year, teeth are particularly susceptible to the damage they endure during the summer because everyone's more active. To avoid a stained, cracked, or chipped smile, your dentist in North Naples shares four summer activities that can damage your teeth.
Reaching for Sugary Drinks
When that summer sun is beating down on you, few things sound better than an ice-cold glass of lemonade or soda. While these drinks are a breath of fresh air in the moment, the sugar they contain can cause tooth decay and cavities that can ruin your summer. Instead, sip on water throughout the day to preserve the strong enamel on your teeth, and reserve the sugary stuff for special occasions.
Summer Sports
Mornings throwing the Frisbee, afternoons playing volleyball, and evenings competing in baseball are just a few of the fun summer sports people love to participate in. Although each of these sports is great for soaking up some Vitamin D and getting your 30 minutes of exercise in, they can quickly become dangerous if your tooth gets knocked out in the process. To ensure your summer sport remains a positive experience, make sure to always wear a mouthguard to protect your teeth. Plus, your dentist can make you a custom one that is comfortable, safe and beats the standard one size fits all mouthguard you can find at the store.
Swimming
Did you know that too much time in the pool can pose a threat to your pearly smile? While swimming itself does not damage your teeth, the chlorine in the water can. Since the early 1980s, studies have shown the detrimental effects improper chlorine levels have on enamel. While the pH balance is safe between 7.2 and 7.8, anything below that can cause the acidity to harm the integrity of your teeth. If you are unable to check the levels at your pool, you can stay safe by avoiding chlorine in your mouth and being conscious of the amount of time you spend in the water.
Frequent Snacking
Summer activities like going to the movie theatre, hanging out by the pool, and relaxing outside by the BBQ all have one thing in common: they involve snacking! Though eating throughout the day isn't inherently bad for you, crunchy snacks like popcorn and pretzels can crack your teeth from the immense amount of pressure they require. When you feel the need to munch, opt for vitamin-rich snacks apples or almonds that curb your appetite and strengthen your teeth.
Summer is meant for fun in the sun, not hours spent in your dentist's chair. To enjoy all this season has to offer, make sure to protect your teeth during these four summer activities!
About Galleria Dentistry
At Galleria Dentistry, you won't just find compassionate service – you'll find a team that is enthusiastic about serving your entire family. After all, they are family! Dr. Gery Benza, Dr. Anthony Benza, and Dr. Chelsea Benza each specialize in delivering a trustworthy, honest experience that will make you feel right at home. If you do have a dental emergency from a summer activity, don't hesitate to visit their website or give them a call at 239-249-8582.