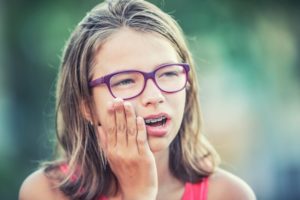 For your children, the summer months represent unending fun without the worries of having to complete homework assignments or to adhere to a rigid bedtime schedule. Unfortunately, though, this is also the peak time of the year for dental trauma. So as a parent, it's best to be prepared; therefore, if an emergency occurs, you'll know what steps you need to take. Read on to learn how to effectively respond to a dental emergency in North Naples.
Why Dental Emergencies Increase in the Summer
The reason for the uptick in dental trauma for children during the summer break is that the weather's nicer and the days are longer. Thus, there is usually more time spent outside participating in such activities as bicycling, basketball, swimming, running and many other fun events.
While it's great for kids to be active, the more they move around, there is a greater chance of a collision or a fall that could result in sudden dental trauma. Instead of waiting on a problem to develop, let's explore ways to respond to some of the more common types of emergencies.
Do This for Any Dental Emergency
No matter what type of dental trauma unfolds, you should take these steps first:
Calmly assess the situation to determine what has happened.
Reach out to your local emergency dentist to schedule a visit.
Responding to a Broken Tooth
If you discover your child has a broken tooth, you should have him or her rinse the mouth with water to soothe the tooth and to remove any lingering debris. Then, to reduce any swelling, apply ice to the affected cheek.
What to Do for a Knocked-Out Tooth
The first step to take for a dislodged tooth is to grab it by the crown (the wider portion) and to gently attempt to place it in its rightful place. If that's not possible, then let the tooth rest in a cup of milk or water until your child can be seen by your local dentist.
The Proper Steps for a Severe Toothache
If your child is like most kids, then the summertime means more liberal consumption of sugary snacks. This can lead to a toothache from the increased bacteria growth. If this happens, you can give him or her ibuprofen in accordance with the recommended dose. Then, you can apply ice to the outside of the jaw to reduce any swelling.
How to Prevent These Emergencies
More than likely, your child is going to be highly active during the summer, so be sure to visit your dentist to have a custom mouthguard designed. Therefore, if there is a collision, the force can be better absorbed to prevent an emergency.
You should also consider establishing some rules for when your child can consume sweets, and to set a limit on how much can be eaten.
By taking these proactive steps and having a plan of action for how to respond to some of the more common forms of dental trauma, your child can enjoy a fun and safe summer break.
About the Author
Dr. Gery P. Benza earned his dental degree from the Case Western Reserve University School of Dentistry in Cleveland. Over 30 years later, he is still providing top-notch dental care. Dr. Benza treats dental emergencies at Galleria Dentistry, and he can be reached for more information through his website.