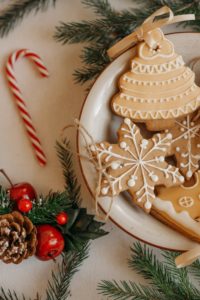 Over the next few weeks, you'll be surrounded by a variety of tasty snacks, treats, and meals. Unfortunately, they aren't just bad for your waistline. They can leave a lasting mark on your smile if you're not careful. Thankfully, your dentist in Naples has the tips you need to keep your teeth and gums healthy. Here's the list of the best and worst holiday foods for your smile.

5 Worst Holiday Foods
There are a few common holiday foods that are favorites for many people; however, they can increase your risk of dental problems. If you can't avoid them altogether, it's best to have them in moderation, including:
Candy Canes
Candy canes are a sweet treat, but they bathe your teeth in sugar because you must suck on them. With the sugar combines with your saliva, it creates an acidic plaque that can erode your enamel. You might think chewing on them solves the problem, but that opens the door to new risks, like a fractured tooth.
Ice Cubes
Adding ice cubes is a great way to cool your favorite seasonal drink, but you don't want to chew on ice, because it can damage your teeth. Not to mention, the rapid temperature change can cause tooth sensitivity. If you can't break the habit, it's best to keep them out of your drink to remove the temptation.
Carbonated Beverages
Carbonated beverages are acidic and often contain sugar. They can weaken your enamel and lead to tooth sensitivity. As you lose more enamel, your teeth can also turn yellow.
Egg Nog
Egg nog is a seasonal favorite, but it contains added sugar. If you can't resist it, choose a sugar-free option. It's also best to avoid those containing alcohol.
Chocolate
Chocolate contains a lot of sugar, which increases your risk of tooth decay. It's best to consume it in moderation and brush your teeth well afterward.
5 Best Holiday Foods
There are certain foods you'll want to add to your plate to keep your smile healthy, such as:
Low Fat Cheese
Cheese combats oral bacteria to make your mouth less acidic while also strengthening your enamel.
Nuts
Nuts are rich in nutrients to keep your teeth strong and stimulate saliva production to cleanse your mouth.
Veggies
Crunchy vegetables scrub your teeth in between brushing. Plus, they have many great vitamins and nutrients.
Turkey
Turkey contains plenty of protein and phosphorus to protect your enamel.
Sugar-Free Gum
Sugar-free gum promotes saliva production to rinse bad bacteria from your mouth,
Healthy Holiday Smile
Choose the foods and drinks you consume carefully to ensure you maintain a healthy smile throughout the holiday season and into the new year.
About Galleria Dentistry
Galleria Dentistry provides family-friendly dental care through a focus on prevention. Our office uses the latest innovations in dentistry to create generations of healthy smiles. If you need your second hygiene appointment before the end of the year, contact our office today to schedule your cleaning and checkup.