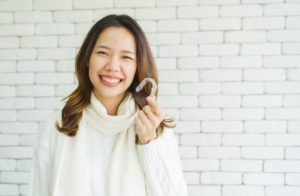 Do you have crooked teeth but don't want to go through the embarrassment and discomfort of wearing braces? Fortunately, there is another option: Invisalign, the set of clear aligners you wear over your teeth to gradually straighten your smile. Did you know that even celebrities have used this treatment to obtain a beautiful smile? Read on to learn more about Invisalign in Naples and 6 celebrities who have used it.
What is Invisalign?
Invisalign is a set of clear aligners that you wear over your teeth. Your dentist will take impressions and create several sets of aligner trays, each one representing a different step on your journey to a straighter smile. Simply wear these aligners for about 22 hours a day, only taking them out for eating, drinking, brushing, and flossing. They are comfortable and barely noticeable, and you'll avoid the metal wires and brackets of braces poking you.
Unlike many other treatments that celebrities get, Invisalign is affordable. The national average for Invisalign treatment is $3,000 — $5,000. However, many insurance companies cover up to $3,000 of the procedure. The best thing to do is talk to your dentist in Naples about how much your insurance plan will cover. Now let's look at 6 celebrities who used Invisalign to straighten their smile:
Zac Efron
The star of High School Musical used to have a gap between his teeth, called a diastema. Once he grew up and was ready for more serious roles, however, he decided to fix this gap with Invisalign.
Justin Bieber
Not long after Justin Bieber skyrocketed into international stardom, he used Invisalign. He was seen wearing them during the BRIT Awards, and he even removed his aligners during an interview. He has also uploaded several videos to YouTube talking about his experience with them.
Tom Cruise
While taking his kids to the orthodontist, Tom Cruise discovered that his front teeth were not perfectly centered. He didn't want braces, as he was in the middle of filming the 2002 sci-fi film Minority Report. Instead he chose to get Invisalign so as not to tarnish his good looks at the height of his Hollywood fame.
Khloe Kardashian
In 2013, the reality TV star decided that Invisalign was the best option to perfect her smile without drawing attention to her treatment. However, she was not shy at all about thanking her dentist on Twitter for the whole process, leaving her with a famous dazzling smile.
Oprah Winfrey
Even as one of the most influential people in the world, Oprah felt no shame in wearing her aligners on her talk show. She doesn't talk about it much, but she doesn't need to. Her beautiful smile tells a success story of Invisalign all on its own.
Serena Williams
When you're an award-winning athlete, you have to be proud to smile at your big wins. This is why Serena Williams turned to Invisalign to straighten her teeth and give her that victorious smile.
Invisalign has worked on several celebrities, and it can work on you too. If you're ready for an affordable way to improve your smile and your self-confidence, look no further than Invisalign. Talk to your dentist about whether Invisalign is right for you.
About the Practice
At Galleria Dentistry in Naples, FL, we try to make every patient feel like a family. After all, our three dentists are all family! Dr. Gery Benza works with his son Dr. Anthony Benza, who is married to Dr. Chelsea Benza. Each patient is treated with the care and respect that the doctors would give to their own family. We offer Invisalign treatment as well to help our patients achieve the beautiful smile they deserve. To learn more about Invisalign, click here or call (239)-249-8582.