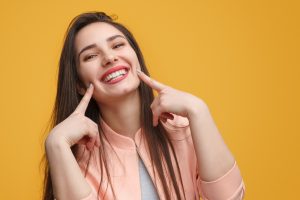 How often do you hide your teeth when talking, smiling, or taking a picture because you're embarrassed by the way they look? You don't have to live with the weight of a less-than-perfect smile. Porcelain veneers are a popular, cost-effective elective procedure that can completely revamp your smile. You can enjoy the full benefits of porcelain veneers after just a couple of appointments. Here's why veneers continue to rank among the top cosmetic procedures year after year.
1. Natural-Looking Results
Veneers used in the past often made teeth look and feel bulky; however, they've undergone several improvements. Modern veneers are typically made of porcelain because it mimics enamel. Not only is it strong, but it also creates natural-looking results. Your cosmetic dentist will design them to fit your teeth like a glove, so no one will know they aren't part of the tooth structure.
2. Fix Multiple Issues
A veneer covers the front surface of a tooth to hide a variety of imperfections. Their versatility allows them to resolve several issues at once, like discoloration, chips, cracks, and gaps between teeth. If you want to make multiple improvements, veneers can streamline the process. You won't require numerous procedures to achieve the results you desire. This provides a convenient solution that can be an affordable alternative to a complex, lengthy treatment plan.
3. Minimally Invasive
Porcelain allows veneers to be crafted thinner than ever, so less of your enamel is removed during the bonding process. The procedure is minimally invasive because you'll keep more of your tooth structure.
4. Long-Term Results
Although veneers are thin, they are durable. It's not unusual for them to last for a decade or longer with the right care, like maintaining your oral hygiene. While various factors influence their lifespan, you can protect your investment by brushing, flossing, and visiting your dentist regularly.
5. Quick Results
You won't have to wait to enjoy the smile of your dreams. After your initial consultation and completing any prep work, your cosmetic dentist will prepare your teeth for bonding and take impressions of your mouth. They'll attach temporary veneers to protect your teeth while the dental lab makes them meet your specifications. In about 2 weeks, your permanent veneers will be ready to be bonded to your teeth.
6. Boost Your Confidence
You can look and feel your best because research shows people attribute an attractive smile to youth, success, and intelligence. Veneers will ensure your smile is giving the right impression to boost your self-esteem and professional image.
Don't spend another day hiding behind a less than par smile. Your cosmetic dentist can give you the results you desire using a proven solution.
About Dr. Gery P. Benza
Dr. Benza earned his dental degree from the Case Western Reserve University School of Dentistry. He regularly continues his education in the latest dental techniques, materials, and technologies to create healthy, beautiful smiles. With over 30 years of experience, he has the qualifications and reputation you can trust. Contact our office today to schedule your veneers consultation.