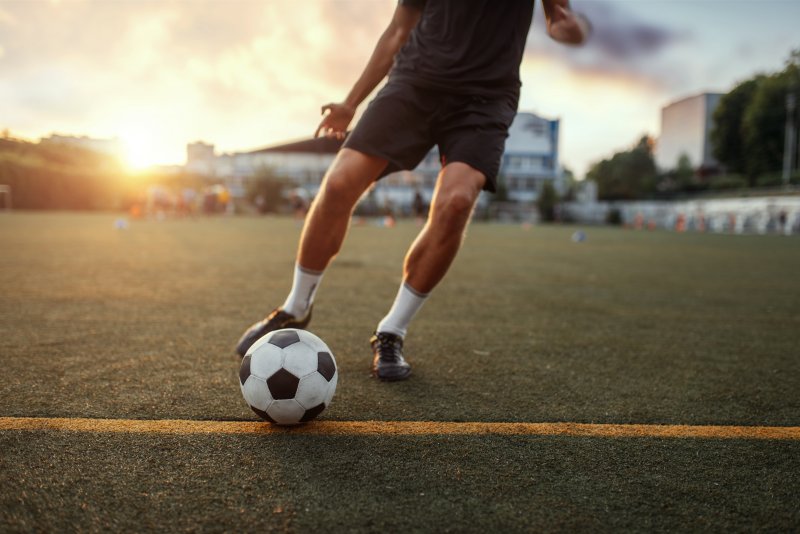 Did you know that almost half of all dental injuries are sports-related? Athletes are among the most at-risk group of people for dental emergencies. Studies show that about ten percent of players will end up with a dental or facial injury in any given athletic season. Although it used to be considered a rite of passage, people are now more aware of the serious long-term health issues that can arise from oral injuries. Here are the three most common oral injuries among athletes and what you can do to protect your smile.
Top 3 Most Common Dental Emergencies Among Athletes
Are you an athlete? Here are the three most common injuries to watch out for:
Cracked Teeth
Always be careful when participating in sports that involve balls, bats, or physical contact. One blow to the face could easily result in a cracked or fractured tooth. If the tooth shows cracks that appear across it, they're called "craze lines" and don't necessarily pose a threat to your oral health.
However, if the crack begins at the tooth's chewing surface and extends downward, it's considered a cracked tooth. With that, you might experience the following:
Sharp pain when biting down
Recurring tooth pain
Pain while eating and drinking (particular when consuming hot or cold foods and drinks)
Since a cracked tooth isn't always noticeable, you might not realize you have one until your dentist discovers it during a checkup.
Fractured Roots
If you sustain a blow at a certain angle, it could cause a fractured root. In these instances, a crack begins at the root level and extends upward to the tooth's crown. Because fractured roots are often invisible, athletes only realize they have one when an infection develops. Patients may need root canal therapy to prevent the infection from spreading to the pulp – otherwise, it could lead to tooth loss.
Tooth Intrusion
Rather than knocking a tooth out, some sports injuries can drive a tooth back into the jawbone. This type of injury is referred to as an intrusion and is usually more common in baby teeth. However, it can happen to athletes of all ages! Tooth intrusion can lead to other complications, including the destruction of the tooth pulp, root resorption (shortening of the roots), and ankylosis (fusion of injured tooth's root to the alveolar bone).
How to Prevent a Dental Emergency
As an athlete, you must take all measures necessary to keep your mouth safe. Here are two ways you can protect your teeth while playing:
Wear a mouthguard. It's a necessity when playing any sport that involves bats, balls, sticks, or physical contact. Mouthguards are custom-fitted to your mouth, protecting it against impact.
Don a helmet. If you want an added layer of protection, consider wearing a sturdy helmet with a faceguard. It'll protect your head and mouth against injury!
Even though modern dentistry can repair most of these sports-related injuries, they can still take a toll on your oral health. So, before playing your favorite sport, be sure to follow all protective measures necessary to keep your smile safe!
About the Practice
At Galleria Dentistry, we pride ourselves on providing compassionate, exceptional, individually tailored dental care that can meet all your oral health needs. Our team understands that dental emergencies can happen when you least expect them to, which is why we are here for you when you need it most. If you sustain a sports-related injury, don't hesitate to give us a call. Visit our website or call (239) 249-8582 to schedule an emergency appointment – we'll provide you with the prompt relief you deserve!